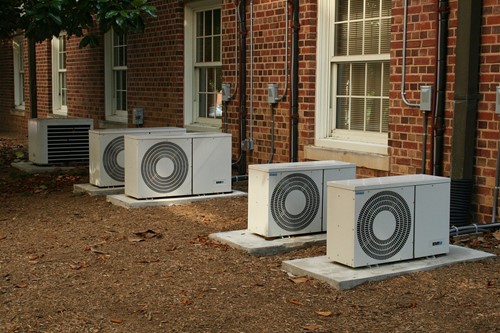 Image by triosolution1 from Pixabay

When it comes to hiding an AC, it's vital to maintain proper airflow. But you don't have to block airflow to remove an air conditioner from your line of sight. Check out these five creative ways to hide your AC.
A Hanging Garden
To make this project easy, pre-made lattice works just fine for a basic hanging garden. But if you're looking forward to a weekend project, go a little more advanced.
Nail six to eight 2X4s together into a grid, leaving space between them. Then simply encourage vines up the structure or hang potted plants on the slats.
You can also turn your grid into a 3D structure so that each compartment becomes a planter for herbs, succulents, flowers or whatever inspires you.
The exact design is up to you. Just keep two things in mind. First, you'll need to maintain it to prevent overgrowth that blocks airflow. And second, it should be easily removable. Or place it three to five feet from the unit so that a professional can service the AC when needed.
A Slatted Bench
So your AC unit is right in the middle of your outdoor entertainment space. Not to worry. You can build a beautiful deep, slatted bench that fits perfectly over the unit. Think up-side-down crate with a bottom that comes off like a lid and you have the perfect hide-away for an AC.
Stain the bench/cover to match your home or lawn furniture and no one will ever know. And because it doubles as a bench, you'll forget your AC is under there, at least when it's not running.
A Row of Hedges
If you can still maintain access to the unit, some AC units can be concealed by a row of hedges planted three to five feet away from the unit. You can place the hedges along one side or grow them all around.
A Bird Sanctuary
Simply adding a fence would be too ordinary, But combining a fence with a line of beautifully painted birdhouses can cover your AC and add character to your yard while giving local birds a safe and warm place to nest in the spring.
If you want to build the birdhouses from scratch, you can. Or you can head down to your local lawn and garden store to choose three to five you like. Then it's just a matter of using a nail and hammer to secure them to the fence.
Give it its Own House
If you want to have some fun and have a little more carpentry skill than the rest of us, create a miniature version of your home that you can place over the unit. It can't be a replica since it needs proper airflow, but by mimicking your home's style, the structure seems to fit right in. That AC will be an eyesore no more.
Love your yard and home with simple and creative tips like these. For more fresh DIY home maintenance and improvement ideas, follow our blog.