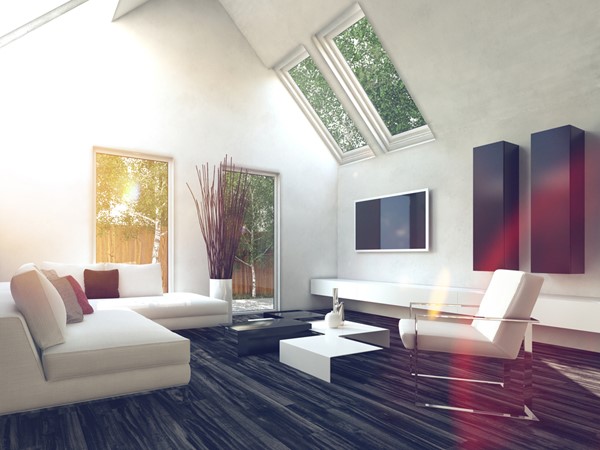 In the gray days of winter, everyone can benefit from some additional sunlight. Take advantage of the well-documented medical and psychological benefits of sunshine and the vitamin D it generates. Sure, you can open your windows, but then you lose that privacy. You can split the difference with a skylight or a light tube that allows light to come down from the roof of your home.
What is a Skylight?
A skylight is a window that opens up to the sky through the ceiling and roof of your home instead of out the side wall. Skylights come in a variety of styles from clear to frosted or patterned. Some even open and may include fans to help increase ventilation. Skylights must reach all the way through the roof to get access to that sunshine, so they require rooftop placement. That means single story properties can have kitchen skylights, but your two-story home limits skylights to upstairs bedrooms or an office.
Skylights can be as simple or as fancy if you like. Just want some light? Go with a simple glass pane. Want some architectural detailing? Try a domed skylight or one with built-in shades or blinds. You can even get smart skylights that respond to apps on your phone or open and close on a schedule or with the predicted weather.
How about a Light Tube?
Light tubes differ from skylights because they reflect light down through a variety of tubes using mirrors. This structure removes the "view" element entirely and opens up a variety of locations that wouldn't work for skylights. One of the best features of light tubes is that the rooftop location doesn't have to be directly above the interior position. A lot of modern light tubes come with LED lights, so they work whether or not there is sunshine. Great places for light tubes include bathrooms, closets, and basically any dark niche. Light tubes that terminate in your walls instead of the roof open up lower or middle floors as well.
Value and Energy
Properly installed skylights potentially decrease your energy costs by adding more natural light which means less electric light. However, if installed poorly, they can mess with your insulation increasing your heating and cooling costs. Always ensure you use the correct skylight for your home and weather. When you add a skylight correctly, it increases your home's value. The best skylights protect the home's energy efficiency and blend in well with the original design. You don't want your skylight looking like an afterthought.
Before you add skylights or light tubes to your home, talk to your real estate agent about what the actual market value increase will be and the best skylights to use.