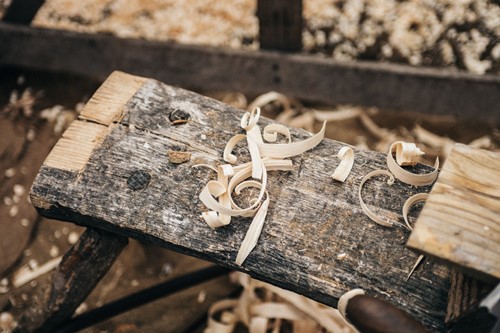 If you have leftover materials from previous DIY projects, you have a great opportunity to do some unique DIYs with wood. Scrap wood is a valuable resource when it comes to creating your own decor. Here are some ideas for fun and simple DIYs with wood:
Rustic wood picture frames
Transform scrap wooden planks into a rustic and stylish picture frame. Depending on the size of frame and the amount of wood you have, you can even make an entire set for a DIY gallery wall. For this project, sand each piece carefully and use your choice of stain that shows the natural wood grain.
Simple sofa sleeves
Sofa sleeves are useful tools for balancing drinks and other items on a round surface. What's even better is they are simple to create with scrap wood. Measure the size of the sofa arms carefully to determine the width of the platform you'll need. Once you do, use wood glue or screws to attach the sides. Add paint or your choice of finish to match the rest of your decor.
Vertical cabinet organizers
Cabinet organization is a great solution for using up the smaller pieces of junk wood. Take strips of about two inches wide and attach small hooks to one side. Affix the other side of the wooden strip to the inside of a cabinet or door for a simple and effective way to hang small basic tools for the kitchen or craft room. If you don't have raw wood scraps, paint sticks make a perfect alternative for this simple wood DIY project.
These are just a few of the fun ways you can use scraps of wood in DIY projects. Consider these ideas for creating custom decor and enhance your home furnishings.